Jurassic World: Dominion Dominates Fandom Wikis - The Loop
Play Sound
"
Rule the school. Save the world.
"

—- Tagline
Stormbreaker is a 2006 spy film based on Anthony Horowitz's novel of the same name, the first novel in the Alex Rider series. In the United States, the film was promotionally named "Alex Rider: Operation Stormbreaker." It stars newcomer Alex Pettyfer as the teenage spy alongside actors Mickey Rourke and Ewan McGregor.
Synopsis
Alex Rider (Alex Pettyfer) is a fourteen year-old orphan who lives with his uncle Ian Rider (Ewan McGregor) and their housekeeper Jack Starbright (Alicia Silverstone). Ian is supposedly a bank manager and is, much to Alex's regret, often away from home. One day Alex is told that his uncle has died in a car crash. Alex subsequently discovers that Ian Rider was in fact a spy working for MI6 and that he was killed by the famed assassin, Yassen Gregorovich (Damian Lewis).
He is then recruited by his uncle's former employers, Alan Blunt (Bill Nighy) and Mrs Jones (Sophie Okonedo) of the Special Operations Division of MI6, who explain to Alex that his uncle has been training him as a spy; Alex first refuses to co-operate but agrees when they threaten to prosecute Jack (now his guardian) for being an illegal immigrant. Alex is then sent to a gruelling SAS training exercise where his fellow trainees first look down on him because of his age, but he soon gains respect for his capabilities.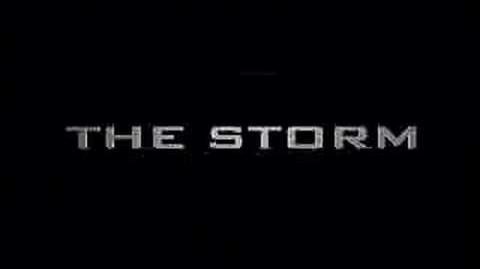 He sets off on his first mission, aided by gadgets from Smithers (Stephen Fry). Billionaire Darrius Sayle (Mickey Rourke) is donating a free high-powered computer system codenamed Stormbreaker to every school in the United Kingdom. MI6 are suspicious of his seemingly generous plans and send Alex, undercover as a competition winner, to investigate. There, he meets the man himself, Sayle and his two accomplices, Mr Grin (Andy Serkis) and Nadia Vole (Missi Pyle) and is shown the Stormbreaker computer in action. Later, while Alex is having dinner with Sayle, the suspicious Vole steals Alex's phone and tracks the SIM card to his house in Chelsea, London. She goes there and finds Alex's true identity. While she is there, she is disturbed by and consequently fights Jack. Despite being out-classed Jack wins with the help of a blowfish, leaving Nadia to flee from the scene. Still troubled by the events, Alex sneaks out of his bedroom window to observe a midnight delivery of mysterious containers to Sayle's lair.
The next day, Alex finds himself in trouble when his cover is blown. After trying to escape from the facility he is captured and during a villianesque monologue Sayle explains his true reasons behind Stormbreaker - each system contains a deadly virus called R5 which will wipe out every single one of Britain's schoolchildren. Sayle leaves Alex tied up and departs for the London Science Museum. Nadia throws Alex into a water-tank to be killed by a giant Portuguese Man o' War. Alex escapes by using the metal-disintegrating zit cream, supplied by Smithers, on one of the tank's brackets, exploding the tank and killing Nadia when the jellyfish lands on her. Alex then hitches a ride on a helicopter piloted by Mr. Grin, using a sodium pentathol arrow to gain Mr. Grin's obedience. Alex parachutes out of the helicopter and lands just as the Prime Minister (Robbie Coltrane) is about to press the button which will activate the Stormbreakers. Alex uses a rifle to shoot the podium, which destroys the button, ruins Sayle's plan, and meanwhile nearly shoots the prime minister.
Sayle is furious and leaves, but Alex then realises that Sayle has a back-up plan, and with the help of school friend Sabina Pleasure (Sarah Bolger) he pursues Sayle through the streets of London. Fifty floors up on one of Sayle's skyscrapers, Alex reaches him and unplugs his backup transmitter. An angered Sayle chases him out onto the roof and pushes him off but Alex manages to hold on. Sayle is distracted by the arrival of Sabina, but pushes her as well and leaves her hanging off the building. Alex then manages to swing Sabina onto a balcony. Just as Sayle is about to shoot Alex, Yassen Gregorovich arrives in a helicopter and shoots Sayle. Alex is then rescued by Yassen, who takes him to a helipad and advises him to return to school and forget about spying when Alex vows to eventually kill him for killing his uncle.
The film ends with Alex and Sabina at their school. Sabina was forced to sign the Official Secrets Act as a result of the prior events, but Alex denies that he is a spy. Just before the movie ends, it shows a close up of a nearby building balcony with an MI6 member standing on it, holding a camera which is focused on Alex.
Cast
Production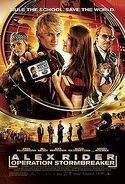 Author Anthony Horowitz, already an established and prolific screenwriter in British television, wrote the screenplay and worked very closely throughout the film's production with director Geoffrey Sax and producers Marc and Peter Samuelson. The Weinstein Company acquired the North American rights to the film, which was filmed in Summer 2005 with six weeks on the Isle of Man and a further six weeks in London. Some of the scenes of the school were filmed in Grey Coat and Ballakermeen High school, Douglas, Isle of Man.[2] The film had a budget of £25 million ($40 million).
In 2005, young actor Alex Pettyfer was cast as Alex Rider. He was picked out of five hundred hopefuls who auditioned for the role.[3] Pettyfer was originally offered a role in the then-upcoming film Eragon but turned it down, noting that he preferred Stormbreaker because it would be filmed nearer home while Eragon would film in the Czech Republic, and Pettyfer is afraid of flying.
In June 2006, the producers of the movie signed a deal with Nintendo that made the Nintendo DS a prominent feature in the film, much like the Power Glove in The Wizard. This is an upgrade from the Game Boy Color that Alex used in the novel version. In addition to the Nintendo marketing in the film, Alex's mobile phone is a Nokia 7710 and he uses a sodium pentathol (otherwise known as truth serum) pen to get to London, not a gun.
In August, 2006, the film was renamed to Alex Rider: Operation Stormbreaker for the United States release. A new poster (shown right) and trailer were released along with the announcement. It was also revealed that the US premiere would take place on the Intrepid aircraft carrier at the Hudson River, New York.The name of the principal villain also changed from Herod Sayle to Darrius Sayle, with his nationality switched from Lebanese (Egyptian in the US version of the novel) to American. This was because Mickey Rourke was already in talks to take on the role, so Horowitz adapted the character to suit him. Throughout the film Mickey Rourke's dog can be seen. It can also be seen on the US film poster.
Critical Reception
Critical reaction to Stormbreaker was mostly mixed or average. On the review aggregator Rotten Tomatoes, 33% of critics gave the film positive reviews, based on 63 reviews, with the consensus that the film was a "strictly children's fare, as it lacks originality, excitement, and believability". Similarly, Cinema Blend editor-in-chief Josh Tyler gave the movie two and a half stars out of five and said that, "Most of the problems with Stormbreaker all boil down to believability". Boston.com's reporter Wesley Morris also gave Stormbreaker two stars out of five, and said that "Geoffrey Sax's filmmaking holds few surprises... but it's swift and competent, despite too many shots of cars on roads that bloat the running time."
The Hollywood Reporter branded the film as a "a lame and disappointing affair". Although likening it to both the Harry Potter and James Bond series, reviewer Ray Bennett said the film "lacks any kind of suspense" due to the script. He ended saying that Stormbreaker was unlikely to have a "license to kill at the box-office". BBC movie critic Neil Smith gave the film three out of five stars but criticized the "unsubtle turns" from both Bill Nighy and Stephen Fry. Likewise, reviews of Alex Pettyfer's performance were generally negative, several critics calling his performance 'bland', 'lacklustre' and many feeling he delivers his lines poorly. There were many complaints that he was cast simply because of his 'pretty boy' looks and his parents' rich, influential connections.
Despite massive hype and publicity upon its release, the movie was a box office flop, grossing only $23,492,130 (£12,239,940) and failing to remake the $40 million (£25 million) spent in production. Because of this, it appears to have ruined Anthony Horowitz's and producer Marc Samuelson's hopes to create a movie franchise, and it seems that this idea has now been dropped.
Differences between the book and movie
In the book, Mr. Grin flies a plane which he crashes into a dock, killing him. In the movie, he uses a helicopter and his eventual fate is ambiguous.
Furthermore, Alex holds Mr. Grin at gunpoint with a pistol in the book, but in the movie, Alex shoots him with a sodium pentathol dart to make him willing to obey his orders.
Sabina Pleasure is absent in the novel as she is not introduced to the series until Skeleton Key.
In the book, Sayle does not have a backup plan, but he instead holds Alex at gunpoint and takes him to the roof of a high-rise building (which is not described to be Sayle Tower) to kill him without any witnesses.
Nadia Vole never goes to Alex's house in the book.
Alex sneaks out from Sayle Enterprises from his window to watch the loading of the R-5 virus, from the movie. In the book, he goes out through a doorway.
The Resistance to Interrogation chapter, which was not in the novel (but a special scene from one version of Stormbreaker), appears in the movie.
Alex fires at the Stormbreaker main computer with a pistol in the book. He uses a carbine in the movie.
Furthermore, the Prime Minister and Sayle are both hit non-fatally by bullets in the book, but they are both unharmed in the movie.
Before Sayle's monologue, Alex is captured at gunpoint in the movie. He is knocked out by Mr. Grin in the novel.
Alex never fell off the roof in the book.
Yassen ambushed Ian Rider with a car in the novel, not a helicopter.
Felix Lester's name is changed to Kevin Blake.
Sayle's first name is Herod in the novel, but in the movie it is Darrius.
References
External links