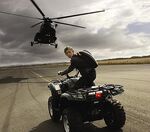 The life of Alex Rider, the main character of the series, is chartered here, as well as the timeline of the entire series. There are continuing debates as to what year the events of the book take place in; Alex's official year of birth is stated as being 1987, with Alex stating in Point Blanc that he was two years old in 1989. However, in Snakehead Alex remembers the Boxing Day Tsunami (2004) placing his birth as being 1991 at the earliest. Then in in the US version of Crocodile Tears, it mentions Obama as being the President of the United States. Considering these events, his birth year would more reliably be 1995.
These contradictions remain uncorrected by the author of the series, Anthony Horowitz, though the following timeline assumes that Alex was born in 1987.
Alex Rider's Life
Alex Rider born in East London, England, to John and Helen Rider on February 13, 1987.
John and Helen Rider killed in plane accident. Ian Rider becomes Alex's legal guardian - around May, 1987.
Jack Starbright arrives from Washington DC and lives with Alex and Ian in return for light housework and babysitting - 1994.
The events of the short story, Alex Rider: Christmas at Gunpoint.
The events of Stormbreaker, beginning with Ian Rider's death around March and finishing with Yassen Gregorovich's killing of Herod Sayle- March/April 2001
The events of Point Blanc, beginning with Alex Rider's ambush on drug dealer Skoda and finishing with Alex fighting with his clone at his school in London - April/May.
The events of the short story, Alex Rider: Incident in Nice.
The events of Skeleton Key, beginning with Alex taking part in Wimbledon as a ball boy and finishing with him being invited on holiday by Sabina Pleasure - late June/July.
The events of Eagle Strike, beginning with Alex spotting Yassen Gregorovich whilst on holiday and finishing with Sabina leaving for San Fransico – late July/August.
The events of the short story, Alex Rider: Secret Weapon.
The events of Scorpia, beginning with Alex going on to Venice and finishing with the assassination attempt on Alex outside MI6 headquarters - late August/September.
The events of Ark Angel, beginning with Alex recovering in hospital and finishing with him crash landing in the South Pacific after falling from Space - October/November.
The events of Snakehead, beginning with Alex being rescued from Australian Waters and finishing with Sabina making a surprise visit to his home - November/December
The events of Crocodile Tears, beginning with Alex spending New Year with Sabina and finishing with Jack reminding Alex of his birthday - January/February 2002.
The events of Scorpia Rising, beginning with Tom Harris getting shot by a sniper and finishing with the death of Abdul-Aziz Al-Rahim.
The events of Never Say Die, beginning with Jack's short email to Alex and finishing with Tulip Jones briefly dismissing Alex Rider from M16
Notes and contradictions about the timeline of Alex's Life
Alex Rider: Underground is another short story that was published, though it remains unclear when it takes place if it does at all - although it appears to take place after the events of Ark Angel, the main villain, Spectacles, is alive in the short story whilst he isn't after this novel. Therefore, it could be said to be Hb (hard back).
Although Alex's birth year is 1987 (so he would be fourteen in 2001) it has been said that General Alexei Sarov was born in 1940, but in Skeleton Key, he is sixty-two years old, meaning the events in the books must occur in 2002 when Alex would be fifteen years old instead of fourteen.
Alex was born in early 1987, though The Mission Files, states that John Rider died in 1988, which is incorrect if Alex's parents died when he was three months old.
Although Alex's official birthday is February 13, Julia Rothman states in Scorpia when showing him the video recorded on March 13 that he was two months old. In addition to this, in the short story Alex Rider: Christmas at Gunpoint, Alex comments that his uncle would die "a couple of months after my 14th birthday"; however, this is inaccurate if Alex's birthday is in February as his uncle died in March, meaning it would have only been one month since Alex's birthday (Mrs Jones comments in Stormbreaker that Sayle's computers would be distributed around the country on March 31, which would be around three weeks after Ian Rider was killed).
The ending in the UK version of Crocodile Tears says it is the end of January, whilst the US version says it is the second week of February, adding to the confusion about when Alex's birthday is.
In Scorpia Rising, Alex uses Facebook. At this point, he is 15, and it is 2002. Facebook was invented in 2004.
In Scorpia Rising, Alex uses an iPhone. The first iPhonese were released in 2007, and the year in the novel is set in 2002.
Timeline of Events in the Series
The Novels
These are links to 'day by day' timelines of the Alex Rider novels.
The Mission Files
Alex Rider: The Mission Files was a book released in October 2006 by Walker Books. It is a reference book about the series, and the following timeline of events are listed inside it:
1380 - Malagosto island sacked during the war with Genoa.
1750 - Ladder built by smugglers up to Casa de Oro from under the water to the cliffs.
1857 - Point Blanc Academy is built.
1868 - Alejandro Corrazon, the owner of Casa De Oro is killed.
1950 - Damian Cray is born with the name Harold Eric Lunt..
1956 - Alexei Sarov is a Private in Operation Whirlwind (an attack to crush the Hungarian revolution.)
1960s - Major Winston Yu classified operations in Northern Ireland for MI6 (Fish Hook, Flashbulb, High Tower) 
1963 - Johannes de Leede (aka Dr Hugo Grief) comes to the attention of MI6
1965 - The parents of Julia Evans (aka Julia Rothman) are put in prison, having been dedicated to Welsh independence.
1966 - Yassen Gregorovich is born in Estrov. Harold Lunt leaves England to go to India and the Far East.
1967 - The Church of Forgotten Saints is deconsecrated 
1970 - Major Yu is diagnosed with brittle bone disease.
1971 - Harold Lunt returns to the United Kingdom, now a Buddist. 
1972 - Eva Stellenbosch (Viljoen) joins BOSS at the age of 21. Major Yu returns to Hong Kong with stolen information for Snakehead.
1974 - Nikolei Drevin is drafted into the Russian army, and joins the Intelligence Service.
1975 - Eva is assigned to Johannes (Hugh Grief) at BOSS.
1977 - Julia Evans is suspected of passing information about the USA sub movements to KGB.
1978 - Sarov promoted to General. Nile is born in Britain.
1979 - Sarov becomes involved in Special Forces to put down the Afghan Military. Harold Lunt's band SLAM! breaks up, and he changes his name to Damian Cray.
1980 - BOSS is closed down. Eva seemed to be part of Hugo's experiments, changing her appearance and body. Julia Evans marries Sandro Rothman, who dies two days later. Major Yu becomes Second in Command of the crime empire in South East Asia. Yassen's parents die, and he heads to Moscow in search of Scorpia.
1981 - Eva follows Hugh Grief to France, where both change their names. Julia Rothman is spotted meeting Levi Kroll by France's Deuxime Bureau in Tangier.
1982 - The CIA photographs Julia leaving the office of Sicily's Angelo il Serpente Gallo, the head of a Mafia clan. Anti Mafia judge in Palermo is killed by Scorpia. Drevin became a signals analyst at KGB, making contacts with Triad, Yakuza, and the Russian underworld. Major Yu organizes some crime.
1983 - Al Ayan, Libya - The Government pays a ransom to Scorpia of 20 million when Scorpia threatens to poison the reservoir. Desmond McCain is knocked out by Buddy Sangster in Madison Square Garden. 
1984 - Scorpia becomes involved in Senate elections in San Antonio, Bolivia. The candidates claim they were intimidated into dropping out of the race. Scorpia assassinates Hector Nalbandian, along with his driver, his bodyguards and two innocent bystanders. Federal drug trafficking charges against Lazaro cocaine cartel dropped as ordered by the New Senate in San Antonio. Buddy Sangster is killed under a train in a New York subway, with 100 black tulips being sent to his family afterwards.    
1985 - Yassen and John Rider begin working together, the latter saving Yassen's life in the Amazon. Nadia Vole begins working for Herod Sayle.
1986 - Damian Cray's free music concert at Wembley Stadium raises 30 million pounds to stop the famine in Africa.
1987 - Sean Green (Mr. Grin) has his accident with knives during performance. Hugo Grief's 'Gemini Project' starts. Alex Rider born on February 13, his parents John and Helen Rider being killed soon after. Ash leaves MI6 and goes to work for Australian SIS.
1988 - Nadia Vole moves to the United Kingdom. Ian Rider is recruited by MI6 in March 1988.
1989 - General Sarov goes to Cuba.
1990 - Damian Cray is knighted by The Queen.
1991 - Sir Rupert is shot and his land bought by Herod Sayle. Julia Rothman's Italian construction company buys the Church of Forgotten Saints.
1992 - Waratah Creek, Australia—Jeff Walker, senior officer in Australian Secret Intelligence Service is killed by a Scorpia scuba diver.
1993 - Conrad deserts the Bosnian Muslims to become a mercenary.
1994 - Drevin becomes a millionaire by unscrupulous means, selling factories for the stock market and buying and selling oil shares. Jack Starbright arrives in the United Kingdom. Conrad becomes a terrorist for hire. Boris Kiriyenko comes to power in Russia. Two MI6 agents tracking Scorpia agent Grigory Yermalov are killed in bizarre skiing accident in Innsbruck, Austria. In Kyoto, a Japan doomsday cult pays 70 million to Scorpia to poison thousands. A cult member then turns himself in and stops it from happening.
1996 - Walter Baxter altered the face of a Serbian war criminal and was caught. He vanished from the UK. Drevin Novgerol is bought by Drevin with help from Russian mafia, triads and yakuza. Max Grendel sends Nile to kill a Scorpia member who sold out to the Italian secret service on a guarded plane. Nile kills over 30 people from 1996 to 2001. Magnus Payne and Drevin meet, and Drevin has Payne released from jail after 15 years.
1998 - Drevin has paid back his investors with interest. Banker and broker for illegal dealings. Conrad is blown up, suffering severe damage though is not killed. Charlie Roper meets Damian Cray in Kuala Lumpur, and Roper is paid for the key to Milstar. Oil is found near Forest Bay National Park.
1999 - Sarov has Conrad become his personal assistant. Scorpia sets fire to the Forest Bay National Park in Alaska. Drevin sells off a cache of Russian energetics weapons to terrorists, and begins to look into suitcase nukes sellings.
2001 - Ark Angel is costing Drevin 10 million pounds a day. Force Three attacks happen throughout the year. Wimbledon takes place. Alex Rider saves the world numerous times. Yassen Gregorovich is killed by Damian Cray for refusing to kill Alex.